Rev. 1:1-7 An angel appears to John and tells him to send a message from Jesus Christ to the seven churches in the province of Asia.
Rev. 1:9-20 John has been exiled on the island of Patmos for preaching about Jesus (see 1 on Map 29). On the Lord's Day (Sunday), John is deep in prayer when he hears a voice and is told to write what he sees to the seven churches.
He turns round to see who is speaking and has a vision of Jesus – the 'Son of Man' (see Daniel 7:13-14), the 'Alpha and the Omega' (the 'First' and the 'Last') (see John 1:1-2) – who has been raised from death and is alive for evermore.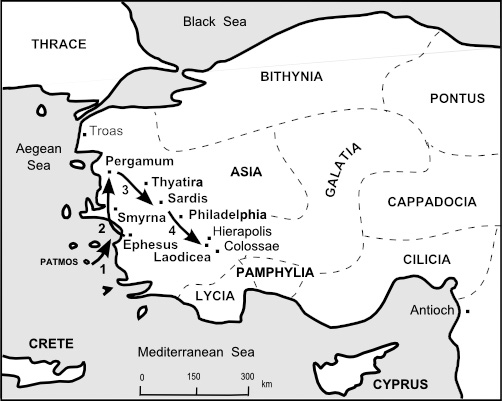 Map 29 The Seven Churches of Asia Minor
Patmos
Patmos is a small Greek island in the Aegean Sea off the west coast of Turkey and is only about 60 miles / 100 km by sea from Ephesus where John had lived and pastored the churches in Asia Minor (see Map 29). As a prominent member of the church in Ephesus, John was exiled to the island of Patmos following persecution of Christians during the reign of Emperor Domitian in c.89AD.
Modern-day visitors to Patmos arriving at the small port of Skala can climb along the stone-paved pilgrim's path leading up to the Monastery of St John, perched on the hilltop at Chora, high above the harbour. As walkers approach the summit of the hill, they pass near a small chapel built above the Holy Cave of the Apocalypse where it's believed that John received his revelation from Jesus Christ.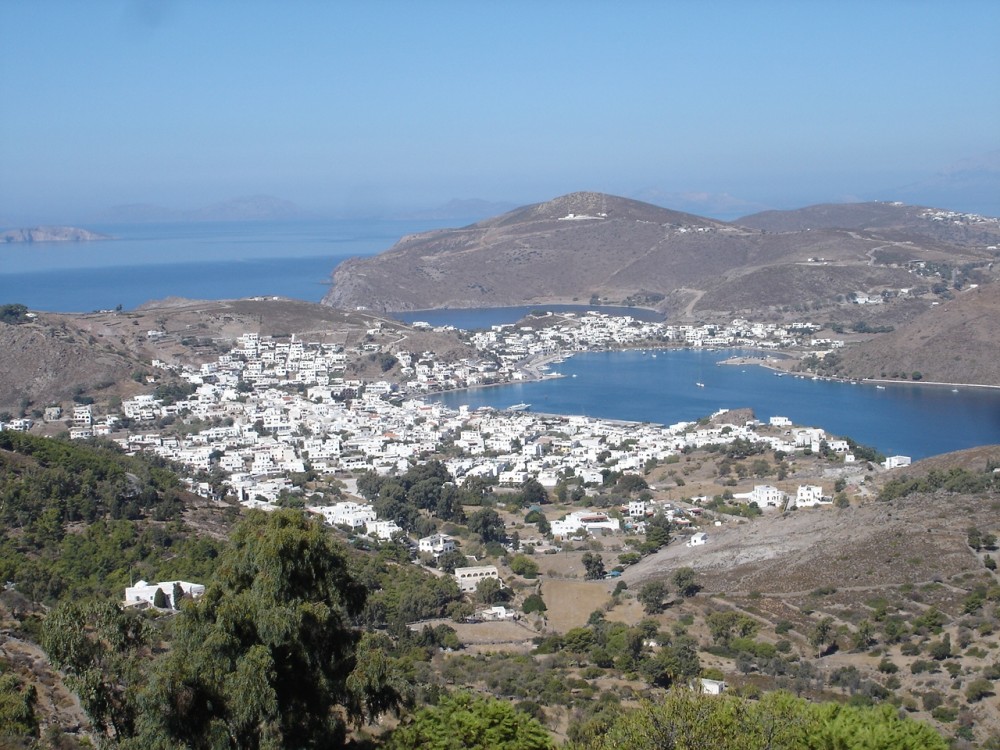 View across Skala from St John's Monastery. Patmos (Revelation 1:9)
Looking out from this hillside across the Aegean Sea towards the mainland at Ephesus, it's easy to imagine John sitting here and writing to the churches from which he'd been separated.
On the summit of the hill, the Greek Orthodox Monastery of Saint Ioannis was founded in 1088 by a monk – Christodoulos – in memory of the author of the Book of Revelation.
Visitors can enter several Byzantine chapels to view the amazing collection of icons and 12th century frescoes, or can sit by the ancient well in the quiet of the inner courtyard, listening to the beautiful chants of visiting pilgrims from the Greek and Russian Orthodox churches.