Isaiah 11:10-16 Isaiah prophesies the return of the people of Israel who will be exiled to Assyria (in 722BC).
"At that time the LORD will again reach out and take his people who are left alive in Assyria, North Egypt, South Egypt, Cush, Elam, Babylonia, Hamath and all the islands of the sea... The LORD will dry up the Red Sea of Egypt. He will wave his arm over the Euphrates River and dry it up with a scorching wind. He will divide it into seven small rivers so that people can walk across them with their sandals on. So God's people who are left alive will have a way to leave Assyria, just like the time the Israelites came out of Egypt." (Isaiah 11: 11 & 15-16) (See Exodus 14:21-22.)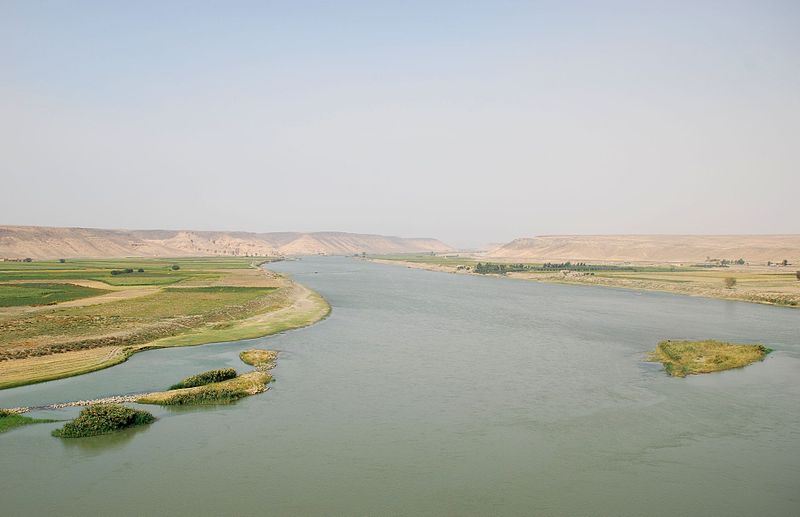 River Euphrates at Zalabiyeh, nr Halabiyeh, Syria (Bertramz)
Isaiah 12:1-6 Isaiah offers a song of praise for the future deliverance of the people of Israel from exile in Assyria.
Isaiah 13-23 Isaiah foretells God's punishment of the people of Babylon, Assyria, Philistia, Moab, Damascus (Syria), Cush (Sudan), Egypt and Tyre (Phoenicia).
Isaiah 24-27 Isaiah warns that the LORD will punish those who sin, but will bring blessings on those who follow him. He offers a song of praise to God, who will restore prosperity "from the Euphrates River to the brook of Egypt." (Isaiah 27:12)