Isaiah 56:1-12 The LORD will bring salvation to people of all nations, and they will gather to worship him on Mount Zion in Jerusalem. "Foreigners will join the LORD to worship him and love him, to serve him, to obey the law about the Sabbath, and to keep my agreement. I will bring these people to my holy mountain and give them joy in my house of prayer. The offerings and sacrifices they place on my altar will please me, because my Temple will be called a house for prayer for people from all nations." (Isaiah 56:6-7 - see also Mark 11:17)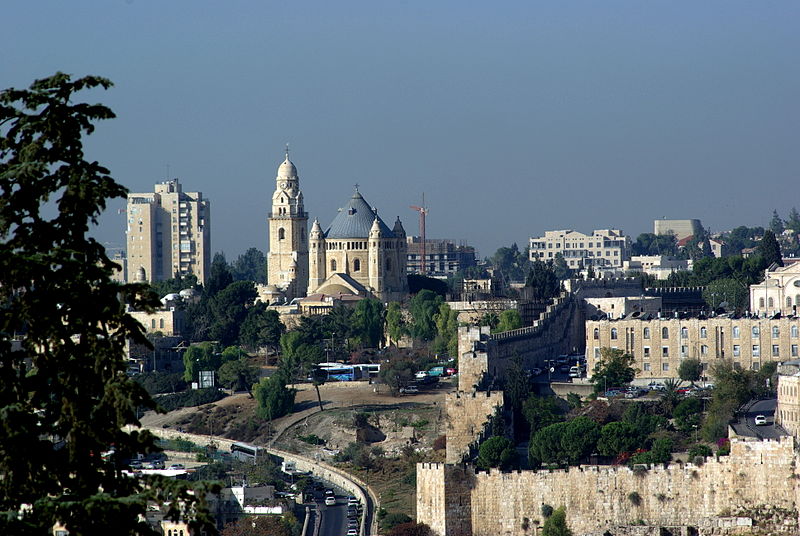 Mount Zion from the Mount of Olives (Berthold Werner)
Isaiah 57:1-21 God will forgive all those who return to him. "Someone will say, 'Build a road! Build a road! Prepare the way! Make the way clear for my people.'... I have seen what they have done, but I will heal them." (Isaiah 57:14,18)
Isaiah 58-59 God explains that 'fasting' means more than abstaining from food. "I will tell you the kind of special day I want: free the people you have put in prison unfairly and undo their chains. Free those to whom you are unfair and stop their hard labour." (Isaiah 58:6) God's people will only be saved if they confess their wrongdoing and turn away from their evil ways.
Isaiah 60:1-22 But when they do, Jerusalem will become a glorious place to live.
The Restoration of Jerusalem
Towards the end of the Book of Isaiah, the writer foretells the restoration of the City of Zion (Jerusalem). After a time of exile, the people of Judah will return and re-build the city, and the glory of God (the 'Shekinah') will once again radiate from the Temple.
"Jerusalem, get up and shine, because your light has come, and the glory of the LORD shines on you. Darkness now covers the earth; deep darkness covers her people. But the LORD shines on you, and people see his glory around you. Nations will come to your light; kings will come to the brightness of your sunrise." (Isaiah 60:1-3)
Jerusalem will become a great trading city once again. "Herds of camels will cover your land, young camels from Midian and Ephah. People will come from Sheba, bringing gold and incense." (Isaiah 60:6)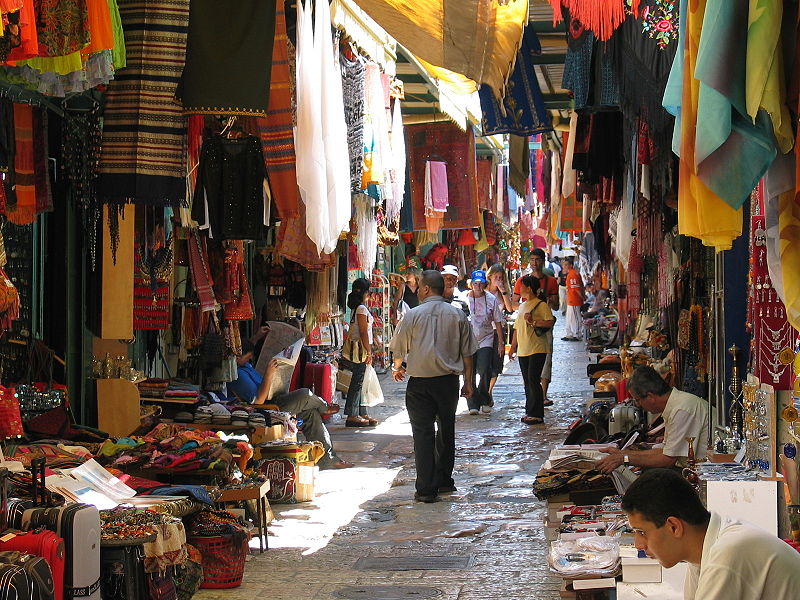 The flea market in the Old City of Jerusalem (Ester Inbar)
Nations will line up again to trade with Israel. "People in faraway lands are waiting for me. The great trading ships ('ships of Tarshish') will come first, bringing your children from faraway lands, and with them silver and gold." (Isaiah 60:9) (See the feature on Ships of Tarshish.)
And finally, the glory of the LORD (the 'Shekinah') will return to Jerusalem. "The sun will no longer be your light during the day nor will the brightness from the moon be your light, because the LORD will be your light for ever, and your God will be your glory." (Isaiah 60:19-20) (See Revelation 21:23 & 22:5)
In fulfilment of these prophesies, the first group of exiles returned to Jerusalem in 537BC (see Ezra 1:1-11) and the restored Temple was finally completed in 516BC (see Ezra 6:13-15 and the feature on The Second Temple).