2 Sam 11:1-27 One evening, during the siege of Rabbah (Amman) in c.997BC, David sees a beautiful woman bathing from the roof of his palace in Jerusalem. David demands that the woman is brought to him. When she becomes pregnant, David sends her husband, Uriah the Hittite, to be killed at the siege of Rabbah (see 8 on Map 56). He then marries Uriah's wife, Bathsheba, who gives birth to David's son.
2 Sam12:1-31 Nathan the prophet rebukes David for arranging the death of Uriah and for taking Uriah's wife. He prophesies that David will suffer a series of calamities because of his wrongdoing. The first of these calamities occurs when David's son dies. David comforts Bathsheba, and together they have another son – Solomon.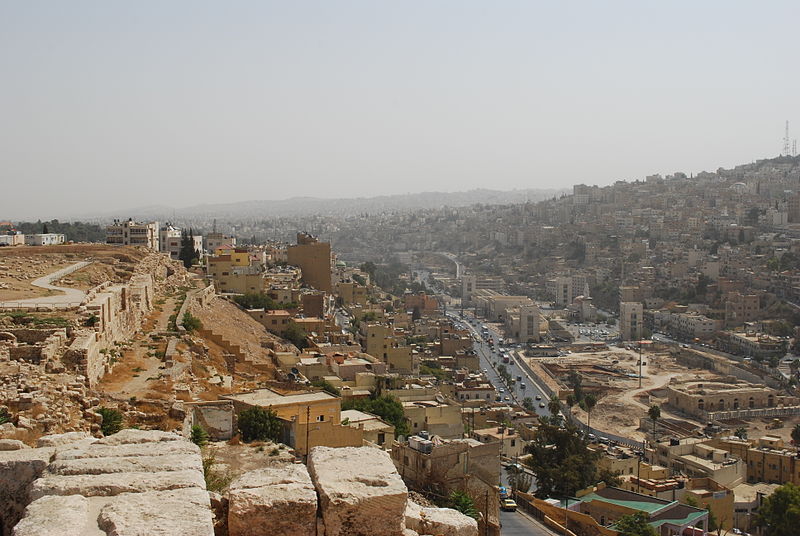 View from the Citadel of Rabbath Ammon (Jean Housen)
Rabbath Ammon
Rabbah – where King David sent Bathsheba's husband Uriah to be killed in the front line during an Israelite siege – is now Amman, the capital city of Jordan. In Old Testament times, Rabbah was the capital of the Ammonite kingdom. The Ammonites were the eastern neighbours of the Israelites after the conquest of Canaan under Joshua. They attacked Israel on many occasions (see Judges 3:13, 6:33, 10:7 & 11:4-33) and were only finally defeated during the strong unified monarchy under King David (see 2 Samuel 11:1 & 26-31).
Rabbah was founded around a spring that forms the headwaters of the River Jabbok, and was originally called Rabbath Ammon – the 'Great city of the Ammonites'. Later, during Roman times, the city was re-named Philadelphia (meaning 'brotherly love') and became one of the ten self-governing cities of the Decapolis.
Visitors to modern-day Amman can still see the Ammonite hilltop citadel and the site of the Jabbok spring, as well as the impressive Roman amphitheatre and Temple to Hercules dating from the 2nd century AD.