Gen 35:1-3 God sends Jacob to Bethel (the site of Jacob's dream - see Genesis 28:17).
Gen 35:4-5 Before leaving Shechem, Jacob buries all the foreign gods that his wives brought from Haran under an oak tree.
Gen 35:6-7 Jacob arrives at Bethel (Luz) (see 12 on Map 41) and builds an altar to God called El Bethel ('God of Bethel').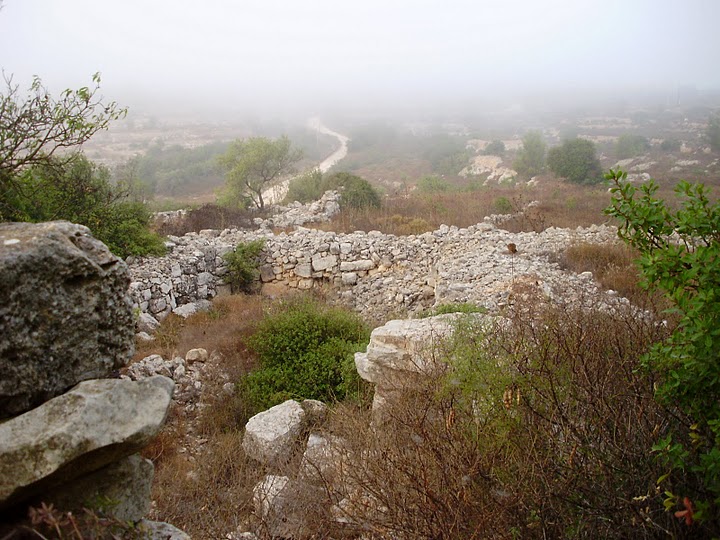 The site of Bethel (Pessimist2006)
Gen 35:8 Deborah - Rebekah's childhood nurse - dies and is buried beneath the oak tree near Bethel. The burial place is called Allon Bacuth ('oak of weeping').
Gen 35:9-15 God appears to Jacob and renews his covenant once again. Jacob reaffirms the name of the place - Bethel ('House of God'). (See the feature on Bethel earlier in this section.)
Gen 35:16-20 Rachel dies while giving birth to Benjamin on the road to Ephrath (Bethlehem). "Jacob set up a rock on her grave to honour her." (Genesis 35:30)
Rachel's Tomb
Rachel died in c.1690BC and was buried beside the road to Ephrath (Bethlehem) (see Micah 5:2). Jacob and his family erected a mound of stones over Rachel's tomb in order to mark the location of her grave.
A small white-domed Ottoman building marking the site of Rachel's Tomb still stands on this site alongside the road from Jerusalem to Hebron, near the northern entrance to Bethlehem. It has become a popular site of pilgrimage for Jews.
Jewish graves throughout Israel are traditionally covered with stones. This is because the Jews have a custom of always placing a stone when they visit a tomb or a memorial. In laying a stone on a grave, Jewish families are following Jacob's example of placing stones on Rachel's grave when she died (see Genesis 35:20).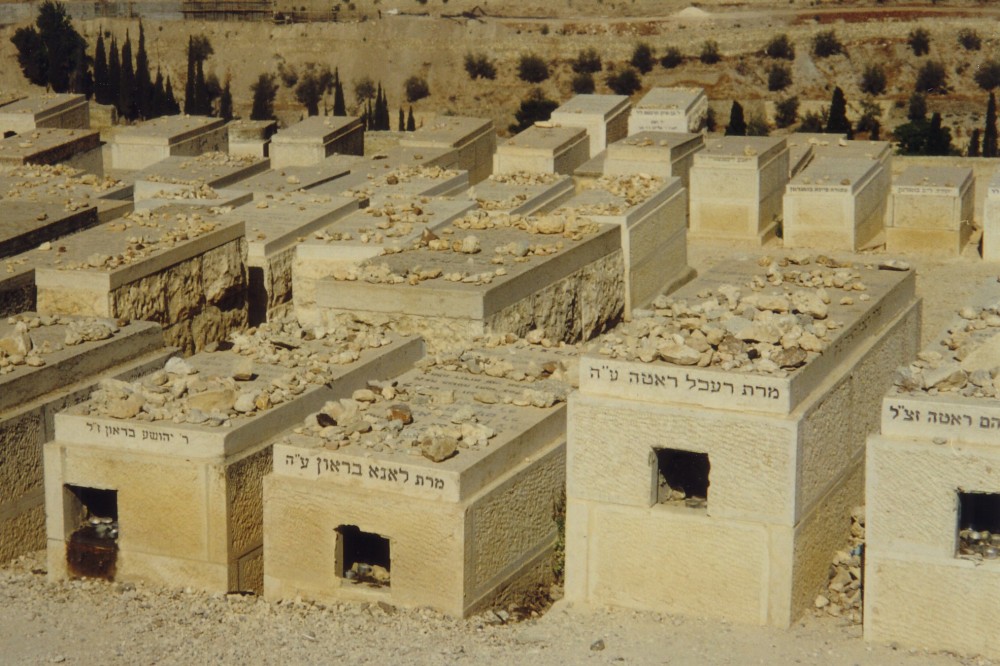 Stones on Jewish graves on the Mount of Olives, Jerusalem
Gen 35:21 Jacob moves on and sets up camp at Migdal Eder ('Tower of Eder').
Gen 35:22-29 Jacob arrives back at his father Isaac's home at Hebron (see 13 on Map 41). Shortly after, Isaac dies, and Jacob and Esau bury their father in the family tomb at Machpelah Cave.
Gen 36:1-40 Meanwhile, Esau becomes rich in the hill country of Seir, and his descendents become kings of Edom.