Neh 4:1-23 As the work progresses and the gaps in the wall are filled, Sanballat the Horonite (probably the Governor of Samaria) and Tobiah the Ammonite (possibly the Governor of Amman) persuade the Samaritans to make armed raids against the city. They perceive that a restored Jerusalem will be a threat to their power and influence in the region.
Nehemiah re-organises the work rotas so that half the men continue re-building while half of them guard the workers with spears, bows and shields. Those working on the wall hold materials in one hand and a sword in the other.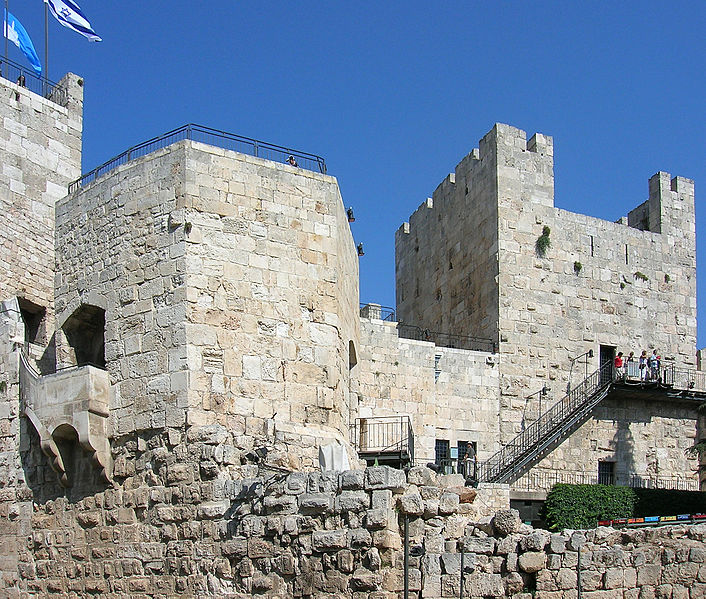 The walls of Jerusalem and the Tower of Phasael (EdoM)
Neh 5:1-19 Meanwhile a famine threatens the inhabitants of Jerusalem. Some sell their land to wealthier Jews to pay for grain, while others are forced to sell their daughters into slavery to buy food. Others are forced to borrow money at high interest rates from their fellow Jews to pay the king's taxes on their fields and vineyards.
Nehemiah is appointed Governor of Judah by King Artaxerxes I. He recognises the injustice of the system and orders the wealthy Jews who have profited unfairly to return the lands and houses of their poorer Jewish neighbours.
Neh 6:1-14 Sanballat, Tobiah and Geshem the Arab (probably the Governor of Idumaea), angered by Nehemiah's appointment as a regional governor within their former area of jurisdiction, make further threats in order to discourage the builders. But the walls are completed in less than two months, on 2nd October 445BC, and the gates are replaced.
Neh 7:1-73 Nehemiah appoints reliable men as gatekeepers and puts his brother in charge of the citadel. Work then starts on constructing houses within the city walls.