1 Sam 25:1 Samuel dies in c.1012BC and is buried at Ramah (see 10 on Map 55).
Samuel's Tomb / Mizpah
Although the Bible says that Samuel was buried at his home town of Ramah (see 1 Samuel 25:1), the 'traditional' site of Samuel's Tomb is about 3 miles / 5 km south west of Ramah at Mizpah.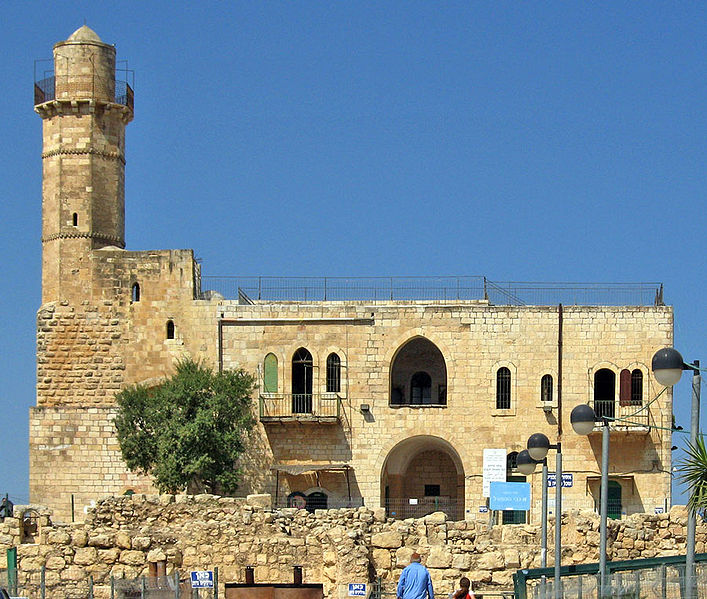 Samuel's Tomb at Mizpah (Tamarah)
Mizpah (meaning a 'watch-tower') was a hilltop settlement some 5 miles / 8 km to the north west of Jerusalem. At nearly 3000 feet / 900 m above sea level, it was situated on top of the highest hill in the area, looking down 600 feet / 180 m above the plain of Gibeon and south towards Jerusalem. Standing out above its neighbours, it became an important meeting place for the people of Israel in the days after the conquest of Canaan under Joshua in c.1406 BC, but before David captured Jerusalem from the Jebusites in c.1004 BC.
When a Levite's concubine was raped by the men of Gibeah, the Israelites assembled at Mizpah in order to plot their revenge on the Benjamites (see Judges 19:13). After the Ark of the Covenant was seized by the Philistines during the disastrous campaign at Ebenezer / Aphek in c.1024BC, the elders of Israel met with Samuel at Mizpah to confess their wrongdoings and to re-dedicate themselves to the LORD (see 1 Samuel 7:3-6). Later, Samuel called the Israelites to Mizpah in order to proclaim Saul as their new king (see 1 Samuel 10:17-27).
After the overthrow of Jerusalem by the Babylonians in 587 BC, Gedeliah was appointed Governor of Judah at Mizpah by King Nebuchadnezzar (see 2 Kings 25:22-23), and Jeremiah was brought here when he was set free (see Jeremiah 40:6). Shortly after, Ishmael assassinated Gedeliah at Mizpah, and all the remaining Israelites (including Jeremiah) fled to Egypt (see Jeremiah 41:1-3).
In the 6th century AD, a Byzantine Christian identified the ancient site of Mizpah as what he believed to be the burial place of Samuel. A large monastery was built here by the emperor Justinian, which was later destroyed. In the 12th century, the Crusaders called the hilltop 'Mons Gaudi' – 'Hill of Joy' or 'Mountjoy' – as the members of the First Crusade in 1099 AD 'wept for joy' when they first caught sight of Jerusalem from the summit. A large fortified Premonstratensian abbey, dedicated to Samuel, stood here from 1157 to 1219, when it was demolished by the Ayyubid Sultan al-Muazzam.
Today, the Tomb of Samuel (Hebrew: Nabi Samwil, Arabic: Nebi Samwil) is a popular place of pilgrimage for both Jews and Muslims. The remains of the monastery and Mameluke buildings now house a mosque that was formerly a Crusader church. The tomb is situated underground, where there is a small synagogue. (See also the feature on Ramah.)