Gen 26:1-17 Famine strikes the semi-arid uplands of southern Canaan, so Isaac moves to the more fertile territory of the Philistines on the coastal plain. He settles in the Philistine city of Gerar where he pretends that Rebekah is his sister so the Philistines don't kill him (see 4 on Map 41).
Isaac has good harvests and the Philistines are jealous, so they fill in the wells that Abraham's servants have dug, and Isaac is asked to leave.
Gen 26:18-21 Isaac re-digs the wells in the Valley of Gerar. The local Philistine herdsmen claim one of Isaac's new wells, so Isaac calls the well Esek ('Argue'). They then argue over another new well called Sitnah ('Fight').
Gen 26:22 Isaac digs another well with no opposition. So he calls it Rehoboth ('Room Enough') because "the LORD has made room for us, and we will be successful in this land" (Genesis 26:22)
Gen 26:23-25 Isaac is forced by the Philistines to move to Beersheba (see 5 on Map 41). God renews his covenant promise and Isaac's servants dig another well.
Gen 26:26-35 Abimelech, the king of the Philistines, makes peace and Isaac prepares a feast. The new well is called Shibah ('Promise'). "and that city is called Beersheba even now." (meaning 'Well of the Promise') (Genesis 26:33) (see also Genesis 21:31).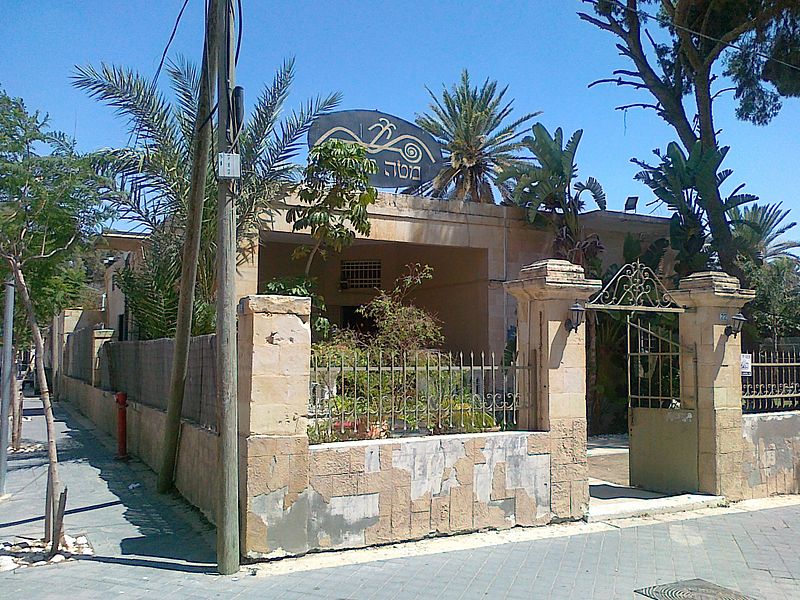 Beit Hanegbi in the Old City of Beersheba (B Aswim)
Beersheba
Beesheba has been populated since the 4th millenium BC. It grew as an oasis on the northern fringe of the Negev Desert. During Old Testament times it was situated on the Way of Shur, one of the two main trading routes linking the ancient civilisations of Egypt and Mesopotamia (see Map 33).
When Isaac moved to Beersheba in c.1730BC, it was important for sheep and cattle herders to acquire local wells or to dig new ones from which they could draw water for their livestock. After a number of arguments over water supplies, Isaac secured the rights to the new well at Beersheba in an agreement with Abimelech sealed by a solemn promise. The place became known as 'the well of the promise' or 'Beer-Shibah' and Isaac built an altar there.
After the conquest of Canaan under Joshua in c.1406 BC, Beersheba was allocated to the tribes of Judah (see Joshua 15:28) and Simeon (see Joshua 19:2). It was the most southerly city in the newly formed confederation of Israel, which stetched from "Dan to Beersheba" (see 2 Samuel 24:2). Immediately before the establishment of the United Monarchy in 1012BC, Samuel's sons served as judges at Beersheba (see 1 Samuel 8:2). One hundred and fifty years later, Elijah sought refuge in Beersheba after fleeing from Queen Jezebel following his triumph over the prophets of Baal on Mt Carmel (see 1 Kings 19:3).
Today Beersheba is a modern industrial centre with a thriving university and medical centre. Amongst the narrow alleyways of the old city, dusty-coloured buildings with enclosed courtyards give something of the flavour of a desert oasis.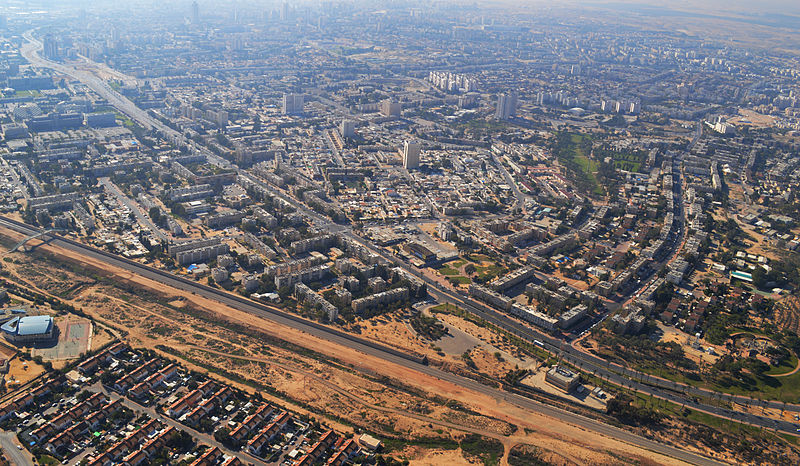 Aerial view of 21st century Beersheba (Amos Meron)
The site of ancient Beersheba is found at Tel Beer Sheva to the east of the modern city. Remains dating from the 8th century BC (around the time of Elijah) include a double gateway through the city wall, a number of excavated houses, and a 260 feet / 80 m deep well.
Alongside the seasonal Nahal Be'er Sheva (a wadi or dry river valley which flows only after winter rains), two wells which have been used by Bedouin Arabs for centuries are believed to be two of the wells originally dug by Abraham and his son Isaac. Nearby, an old tamarisk tree is believed to be a descendent of one planted by Abraham.