1 Sam 8:1-22 In his old age (he is now over eighty years old), Samuel appoints his sons Joel and Abijah to be 'Judges' at Beersheba. But they are dishonest men, so the people gather at Ramah and plead with Samuel for a strong king "like all the other nations" (1 Samuel 8:5) (see also Deuteronomy 17:14).
Samuel – reluctant at first as he recalls the brief (and disastrous) reign of Israel's first king Abimelech at Shechem in c.1170BC to c.1168BC (see Judges 9:1-6) - begins his search for a suitable leader.
1 Sam 9:1-13 In the Spring, around 1012BC, Saul – an impressive looking forty-year-old - goes in search of his father's donkeys, from Gibeah (in Benjamin) to Shalishah, Shaalim and Zuph (see 1 on Map 54).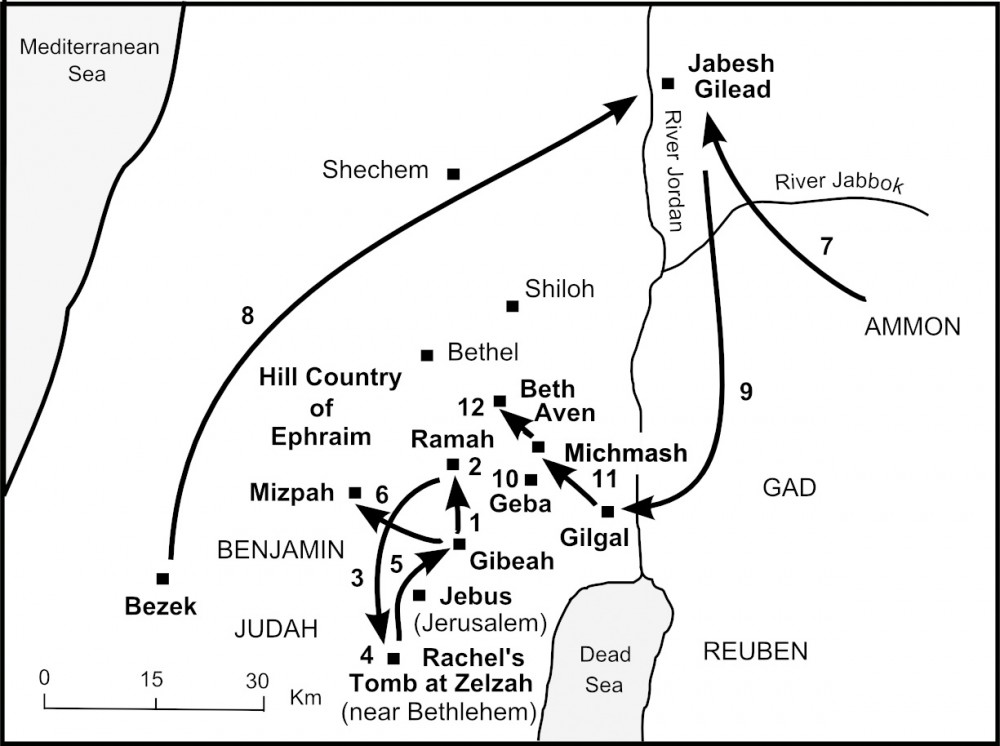 Map 54 Saul's Journey to Kingship
1 Sam 9:14-10:1 At Ramah, Saul and his father's servant consult Samuel about the missing donkeys. Samuel immediately recognises the young man as God's appointed leader, and anoints Saul as King of Israel (see 2 on Map 54).
1 Sam 10:2-8 Samuel tells Saul to go to Rachel's tomb at Zelzah near Bethlehem (see Genesis 35:19) where two men will tell him that the donkeys have been found (see 3 on Map 54).
1 Sam 10:9 As Saul turns to leave, he becomes a new person as the Spirit of God comes upon him in power (see 4 on Map 54).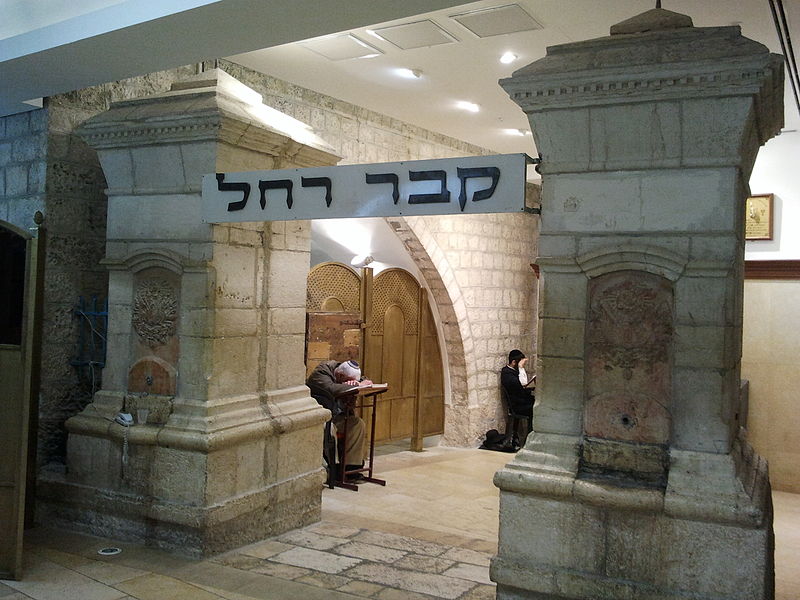 The entrance to Rachel's Tomb
1 Sam 10:10-16 When he arrives home at Gibeah, Saul begins prophesying as he joins a group of prophets singing and dancing (see 5 on Map 54).
1 Sam 10:17-27 Samuel calls the people together and publicly proclaims Saul king at Mizpah (see 6 on Map 54).
'Saul' meaning 'asked for' (by the people) was probably the name given to Saul at his coronation (in the same way as Prince Albert of Great Britain took the coronation name 'George' to become King George VI in December 1936). The Bible doesn't state Saul's earlier name, but he may be the 'Labayu' (the 'Great Lion of God') mentioned in the Amarna letters written by the Philistines and other allies to the Egyptian Pharoah Akenaten.
1 Sam 11:1-7 A month later, King Nahash of Ammon beseiges Jabesh Gilead (see 7 on Map 54).
1 Sam 11:8-11 Saul rallies the Israelite forces at Bezek and defeats the Ammonites at Jabesh (see 8 on Map 54).
1 Sam 11:12-15 Saul is confirmed as king at Gilgal (see 9 on Map 54, Joshua 4:19 & the feature on Gilgal).
1 Sam 12:1-25 Samuel reminds the Israelites how God has blessed them when they have followed his commandments, but has allowed disaster to fall when they deserted him.