1 John 3:11-12 John says the believers should love one another – and not be like Cain, who murdered his brother Abel (see Genesis 4:8).
1 John 3:13-18 John warns the believers not to be surprised if others in the world hate them. And he encourages them to help each other in practical ways: "Suppose someone has enough to live and sees a brother or sister in need, but does not help. Then God's love is not living in that person" (1 John 3:17).
1 John 3:19-24 He urges the believers to follow their conscience and to have courage because "We know that God lives in us because of the Spirit God gave us" (1 John 3:24).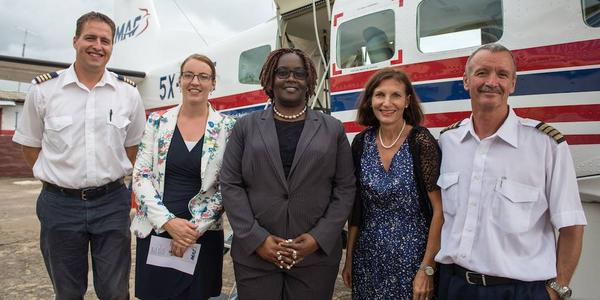 John urges Christians to help each other in practical ways (Mission Aviation Fellowship)
Don't believe everyone
1 John 4:1-6 John warns them not to believe everyone who claims to have God's Spirit. They should test them to find out if the spirit they have comes from God or if it is "the spirit of the enemy of Christ" which thy have heard is coming (1 John 4:3). Anyone who claims that Jesus did not come as a human being has a false spirit of error.
1 John 4:7-10 John urges the believers to love one another "because love comes from God" (1 John 4:7). "This is what real love is: … it is God's love for us in sending his Son to be the way to take away our sins" (1 John 4:10).
1 John 4:11-16 He reminds them that no-one has ever seen God the Father, but God lives in union with them if they love one another. And John has seen God's Son – whom he sent to be the Saviour of the world.