Introduction to John's 3 Letters
The three Letters of John were written between c.86 and 88AD, after the writing of John's Gospel in c.85AD and before the Revelation given to John in c.90AD. John is writing from the 'mother' church in Ephesus to believers in numerous 'daughter' churches spread across the interior of Asia Minor.
Both these letters and John's Gospel were written to warn believers of a dangerous heresy (called 'gnosticism') that claimed Jesus was divine, but not fully human. John sets out to convince the readers of his gospel and the recipients of his letters that Jesus was indeed both fully human and fully divine.
John
John was from Capernaum where he and his elder brother James worked with their father in the family fishing business alongside hired men (see Mark 1:19-20 and Map 15). The brothers were both probably outspoken and quick-tempered as Jesus gave them the nickname 'Boanerges' (meaning 'Sons of Thunder') (see Mark 3:17).
James and John were closely related to Jesus and his brothers James, Joseph, Simon and Judas (or 'Jude') (see Matthew 13:55), and Jesus had probably known them both well since childhood. They lived nearby (Capernaum, on the Sea of Galilee, is well within a day's journey of Nazareth) and were first cousins as their mother (Salome, the wife of Zebedee) was the sister of Jesus's mother Mary (see Matthew 27:56, John 19:25 & Mark 15:40).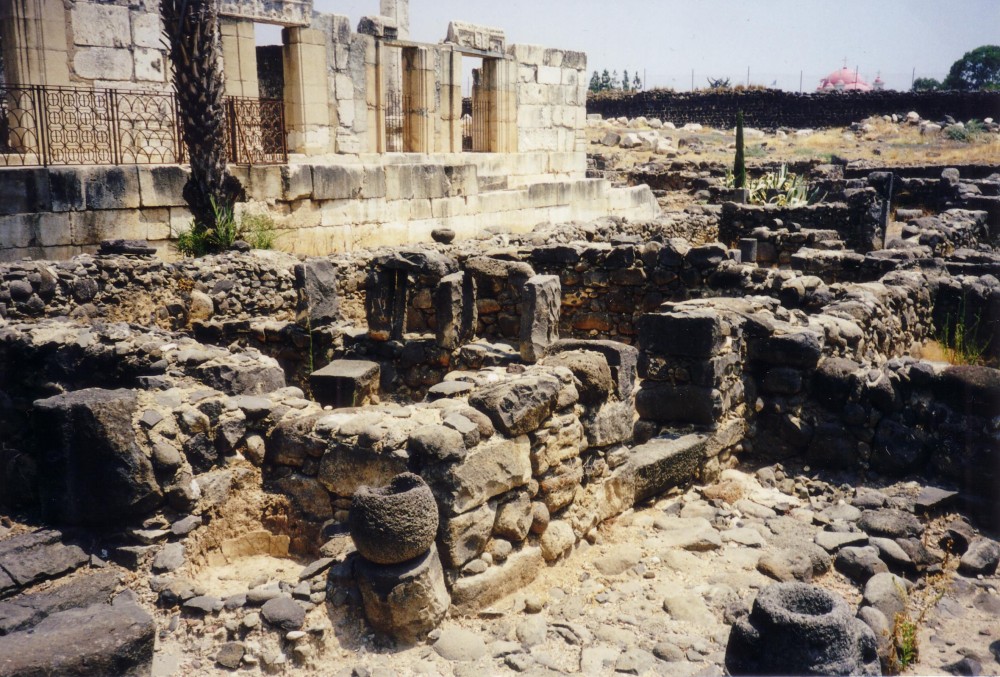 John lived at Capernaum, a fishing port on the Sea of Galilee
John was one of Jesus's close inner circle of three disciples – Peter, James and John (see Mark 5:37, Mark10:35-40 & Luke 22:8) – who witnessed the transfiguration and the glory of Jesus on Mount Hermon in 29AD (see Mark 9:2-3 and 2 on Map 9). He was the young man who reclined next to Jesus at the Last Supper in Jerusalem (as a young teenager at the time, he is sometimes shown in paintings without a beard), and he described himself as 'the disciple whom Jesus loved' (see John 13:23).
When Jesus was crucified, he asked John to look after his mother Mary (who was, by then, probably a widow). And from that time on, John took Mary (who was also his aunt) into the family home (see John 19:27) to live with her sister (John's mother, Salome).
After the resurrection of Jesus in 30AD, John became one of the first leaders of the early Christian church in Jerusalem (see Acts 1:13). With Peter, he was dragged before the Jewish council (the Sanhedrin), for healing a crippled man at the Beautiful Gate of the Temple in Jerusalem, and preaching about the resurrection of Jesus (see Acts 3:1-4:31 and Map 12).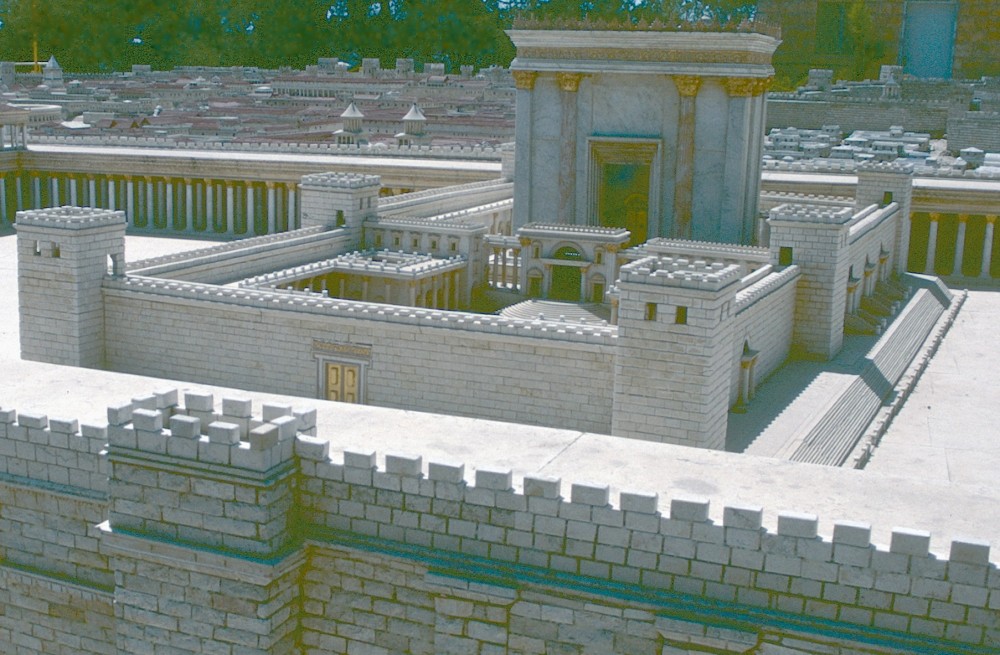 Peter and John healed a crippled man at the Beautiful Gate of the Temple
When the believers were scattered by persecution following the stoning of Stephen in 35AD, John was sent with Peter to visit the new converts in Samaria (see Acts 8:14-25 and Map 17). In 49/50AD John was one of the church leaders at the Council of Jerusalem (see Galatians 2:9), together with Peter and James the brother of Jesus (see Acts 15:13). (His own brother James had been beheaded by King Herod Agrippa I in 44AD – see Acts 12:2).
John escaped from Jerusalem to Ephesus, probably around the outbreak of the Romano – Jewish War in 66AD (when Peter fled to Rome – see 1 Peter 1:1). From Ephesus, he supervised the spread of the gospel throughout Asia Minor.
After writing his gospel in c.85AD and his three letters shortly afterwards, he was persecuted by the Roman emperor Domitian in c.88-89AD and exiled to the island of Patmos in the Aegean Sea (see Map 29). St John's Monastery on Patmos – built later in his honour – can be seen today, together with a small church built over the cave in which it's believed that John received his revelation from Jesus (see Revelation 1:9).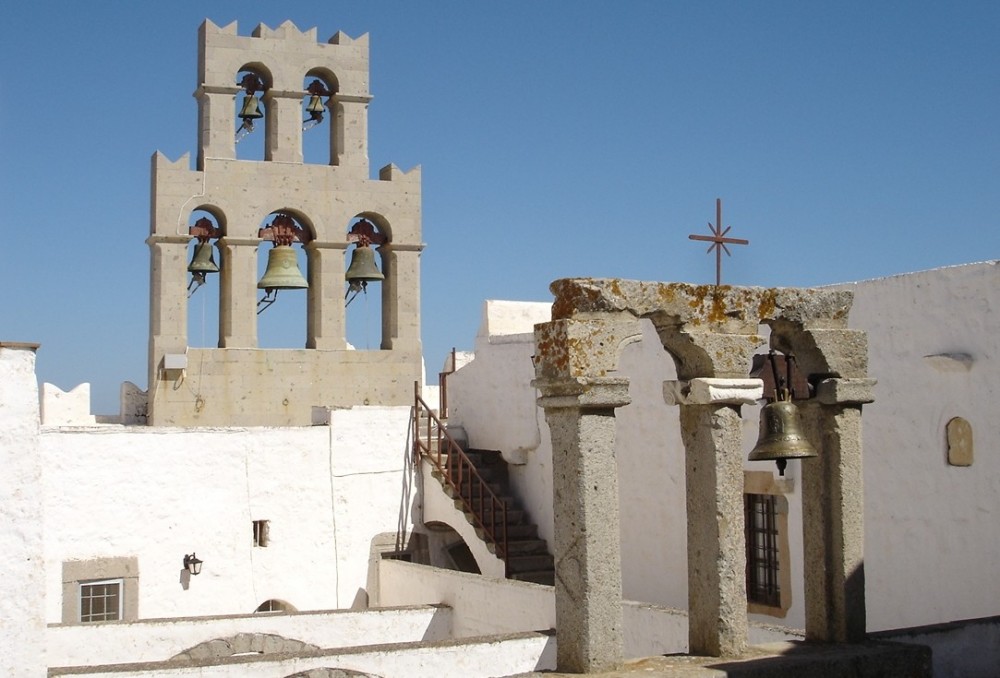 St John's Monastery, Patmos
From here, John wrote the letters to the seven churches in the Roman province of Asia (see Revelation 1:4 & 2:1-3:22 and Map 29) and described the vision he had received of the 'end times'. On the death of Domitian in 96AD, John was able to return to Ephesus, where he died. Today, his tomb can be seen inside the ruins of St John's Church at nearby Selçuk.