Jude 1:14-16 Jude says that Enoch (the father of Methuselah) prophesied about these false teachers. Enoch said, "Look, the Lord is coming with many thousands of his holy angels… to punish all who are against God for all the evil they have done against him" (Jude 1:14-15) (see Genesis 5:18-24 and the apocryphal Book of Enoch – from which the quote is taken).
Jude 1:17-23 Jude reminds them how the apostles warned that people who follow "their own evil desires" (Jude 1:18) would cause divisions in 'the last days'. He urges the believers to pray in the power of the Holy Spirit as they wait for the Lord Jesus to give them "life forever" (Jude 1:21).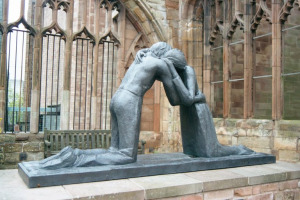 Pray in the power of the Holy Spirit to heal divisions during the "last days".
Jude 1:24-25 He closes with a benediction: "God is strong and can keep you from falling … To him be glory, greatness, power and authority through Jesus Christ our Lord for all time past, now, and for ever." (Jude 1:24-25).