The Letter to the Hebrews is a message sent to Jewish Christians facing persecution in the years leading up to 70AD.
It's not known who wrote the letter, but it was written from Italy (see Hebrews 13:24) by a prominent Jewish believer and sent to other Jews who had expressed their faith in Jesus Christ. Contemporary accounts of the persecution of early Christians suggest it may well have been sent to the Jewish believers at Antioch in Syria (see Map 22).
The letter affirms that Jesus Christ is the complete revelation of God's word – superceding the partial revelation given in the Old Testament.
Hebrews
This letter was written to Jewish believers who were facing persecution for their faith in Jesus Christ. It was probably written at the height of anti-Jewish hatred following the outbreak of the Romano-Jewish war in 66AD, but before 70AD, as the Temple in Jerusalem was still in existence prior to its destruction by the Romans.
For many centuries, it was believed that Paul was the author of this letter. This is now regarded as highly unlikely as the style is quite different to Paul's other letters and the author (unlike Paul) was someone who had neither met Jesus nor had a personal encounter with the risen Lord Jesus (see Hebrews 2:3).
The author, however, was clearly well known to the early Jewish believers and was well respected by them. He was probably a colleague of Paul writing from Rome, where he was expecting Timothy to return after his release from prison in Ephesus (see Hebrews 13:23, 1 Timothy 1:3, 2 Timothy 1:18 & 4:12).
The letter may have been written by Joseph the Levite – better known to us as 'Barnabas' – the Jewish priest from Cyprus (see Acts 4:36), who was an early believer in the Jerusalem church. Barnabas – a nickname meaning 'the encourager' – became a fellow-worker with Paul after he befriended him following Paul's conversion (see Acts 9:27), brought him from Tarsus to Antioch in Syria (see Acts 11:22-26 and Map 22), and accompanied him on his first missionary journey (see Acts 13:1-14:28 and Map 23).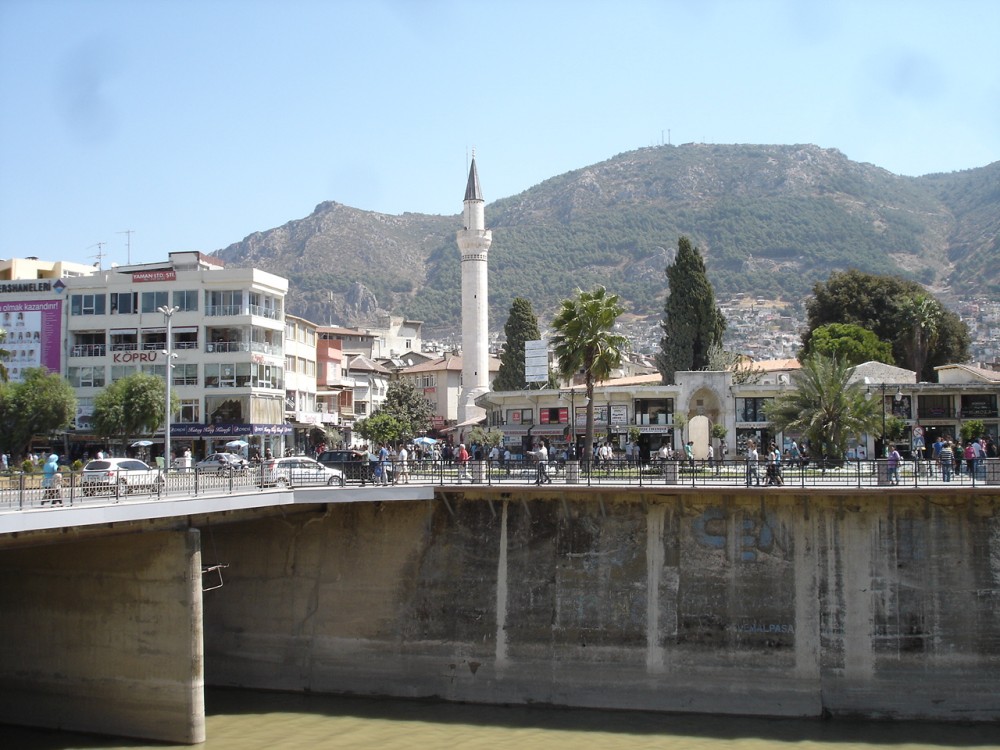 Barnabas worked with Paul at Antioch in Syria (Antakya)
Barnabas spoke out alongside Paul at the Council of Jerusalem in 49/50AD, and returned with him to Antioch (see Acts 15:1-35). They then went their separate ways on disagreeing about whether to take John Mark with them, and because of their different attitudes towards Gentile believers (see Acts 15:36-40 & Galatians 2:11-13).
Barnabas then revisited the Jewish believers in Cyprus (see Acts 13:4-6 and 1 on Map 24). We know that Barnabas was well known in Christian circles across the eastern Mediterranean as Paul mentions him in his first letter to the believers in Corinth, written from Ephesus in 56AD (see 1 Corinthians 9.6).
If Barnabas wrote the Letter to the Hebrews, it is quite likely that he was writing to the Jewish believers in Antioch – where there was a large Jewish population and many Jewish Christian believers (see Map 27). There was also much disagreement about how far the Jewish believers here should hold on to their Jewish customs and traditions (see Acts 15:1-2, 22-29 & Galatians 2:11-14). The Jews and Christians in Antioch were cruelly persecuted and many were killed following a fire in the city in 67AD (in the same way as Nero had treated the Christians as scapegoats following the Fire of Rome in 64AD).
Alternatively, the letter may have been written by Apollos, the Jewish believer from Alexandria, who was also a prominent fellow-worker with Paul and helped to establish and nurture the Christian churches in Ephesus and Corinth (see Acts 18:24-19:1, 1 Corinthians 1:12 & 3:4-6 and Map 28).
The Letter to the Hebrews addresses Jewish Christians who were familiar with the Old Testament and who were tempted to revert to Judaism, or to Judaise the new faith. It confirms that Jesus Christ is the full and final revelation of God's word – far surpassing any partial revelation given by the Old Testament prophets.