2 Tim. 4:1-5 Paul encourages Timothy to get on with teaching the Good News as the time will come when people will not listen to the truth, but will only believe what they are itching to hear.
2 Tim. 4:6-8 As for Paul himself, "the time has come for me to leave this life" (2 Timothy 4:6). Paul has done his best in the race of life: "I have finished the race, I have kept the faith" (2 Timothy 4:7). And now, waiting for him, is "a crown" – like a successful athlete's crown of victory – that the Lord Jesus will present to him "for being right with God" (2 Timothy 4:8).
2 Tim. 4:9-12 Paul asks Timothy to visit him as soon as possible, bringing John Mark with him. He also gives Timothy news of his fellow-workers.
Paul's Final Days
We have only a limited knowledge of Paul's final days in Rome, awaiting execution in the Mamertine Prison adjacent to the Forum. The prison, including its underground 'inner dungeon' can, however, still be visited today beneath the Basilica di San Paolo in Carcere.
In his Second Letter to Timothy, written shortly before his death, Paul tells Timothy about his fellow-workers who are still with him in Rome, or who have left Rome for more distant parts: Demas (see Colossians 4:14 & Philemon 1:24) has deserted Paul and has gone to Thessalonica; Crescens has journeyed to Galatia and Titus has been sent by Paul to Dalmatia (see Titus 3:12). Only Luke is with Paul in Rome (see Colossians 4:14 & Philemon 1:24), though he has also been visited by Onesiphorus (see 2 Timothy 1:16-18).
The Mamertine Prison is situated at the far left of this photo, next to the Roman Forum
Paul asks Timothy to visit him soon, bringing John Mark (the nephew of Barnabas), whom Paul earlier sent from Rome to Ephesus and Colossae (see Colossians 4:10). Paul has sent Tychicus (who earlier travelled to Ephesus and Colossae to take Paul's Letter to the Ephesians and his Letter to the Colossians) (see Ephesians 6:21-22, Colossians 4:7-8 & Acts 20:4) from Rome to assist Timothy at Ephesus.
No-one knows exactly when Paul died. The Basilica San Paolo alle Tre Fontane (the 'Church of St Paul with the three fountains'), south of Rome's city centre on the Via Ostiense, is believed to mark the spot where Paul was executed in c.67AD. The Basilica of San Paolo fuori le Mura, also on the Via Ostiense just outside the old Roman city walls, was built originally in the 4th century AD by the Christian emperor Constantine, where an earlier memorial marked the spot believed to be the site of Paul's burial.
Some last requests
2 Tim. 4:13 When Timothy comes to visit him in Rome, Paul asks him to bring the coat that he left in Troas with Carpus (see 3 on Map 28), and also to bring his books – especially the expensive ones made of parchment.
2 Tim. 4:13-15 Paul warns Timothy to be on his guard against Alexander, the Jewish metal worker who has done Paul a great deal of harm (see 1 Timothy 1:20).
2 Tim. 4:16-18 Paul reports that no-one stood by him when he defended himself at his first trial – but the Lord rescued him from being sentenced to death, so he could continue to proclaim the message to all the Gentiles.
Final greetings
2 Tim. 4:19 Paul sends his greetings to Aquila and Priscilla in Ephesus, with whom he had stayed for eighteen months in Corinth on his second missionary journey (see Acts 18:3 and Map 24) and for three years in Ephesus on his third missionary journey (see Acts 18:18-19, 18:26, 19:1, 1 Corinthians 16:19 and Map 25). By the time of writing in c.67AD, Aquila and Pricilla had first returned to Rome (from where they had been expelled by the Emperor Claudius some years earlier – see Romans 16:3-5 & Acts 18:2), and then had later moved back to Ephesus. Paul also sends greetings to the family of Onesiphorus, who is currently with Paul in Rome (see 2 Timothy 1:16-18).
2 Tim. 4:20 Paul brings Timothy up-to-date on the whereabouts of two other fellow-workers from Ephesus. Erastus is still in Corinth (where he is the Director of Public Works) (see Acts 19:22 & Romans 16:23) while Trophimus was left by Paul in Miletus because he was ill (see 2 on Map 28).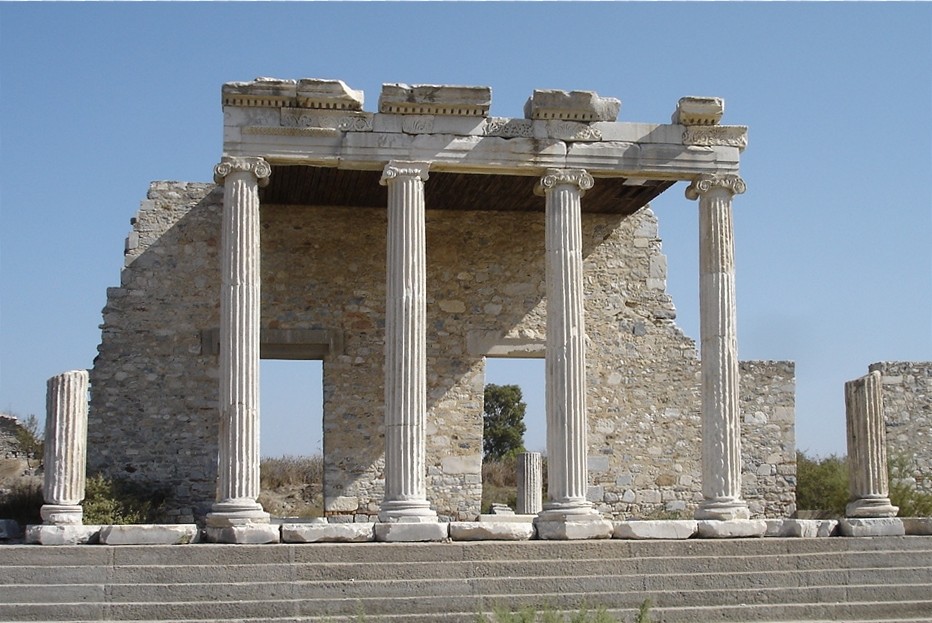 Paul had left Trophimus in Miletus
2 Tim. 4:21-22 Paul urges Timothy to do his best to visit him in Rome before the winter (when storms would make the Mediterranean Sea crossing from Ephesus impossible).
He sends greetings from Eubulus, Pudens, Linus (who, according to tradition, became the first leader of the church in Rome, after Paul and Peter), Claudia and the other believers in Rome, before finishing with a benediction: "The Lord be with your spirit. Grace be with you" (2 Timothy 4:22).