2 Timothy
This letter is the last letter written by Paul of which we still have a copy. It was written after Paul had returned to Rome following his 'fourth missionary journey' and had been imprisoned in the Mamertine Prison alongside the Forum at the foot of the Capitoline Hill shortly before his execution in c.67AD (see 7 on Map 28).
It is not known who carried the letter from Rome to Ephesus, but it could well have been Tychicus, whom Paul sent to assist Timothy in Ephesus (see 2 Timothy 4:12).
In this final letter, written just before his death, Paul gives further advice to his young fellow-worker Timothy, who had been left in charge of the church at Ephesus (see 1 Timothy 1:3). Timothy had been imprisoned and then released, probably during the persecution of Christians by Emperor Nero following the Great Fire of Rome in 64AD or possibly after the outbreak of the Romano-Jewish War in 66AD (see Hebrews 13:23). In the face of persecution, Timothy is encouraged to endure all suffering and to witness faithfully to his living faith in Jesus Christ.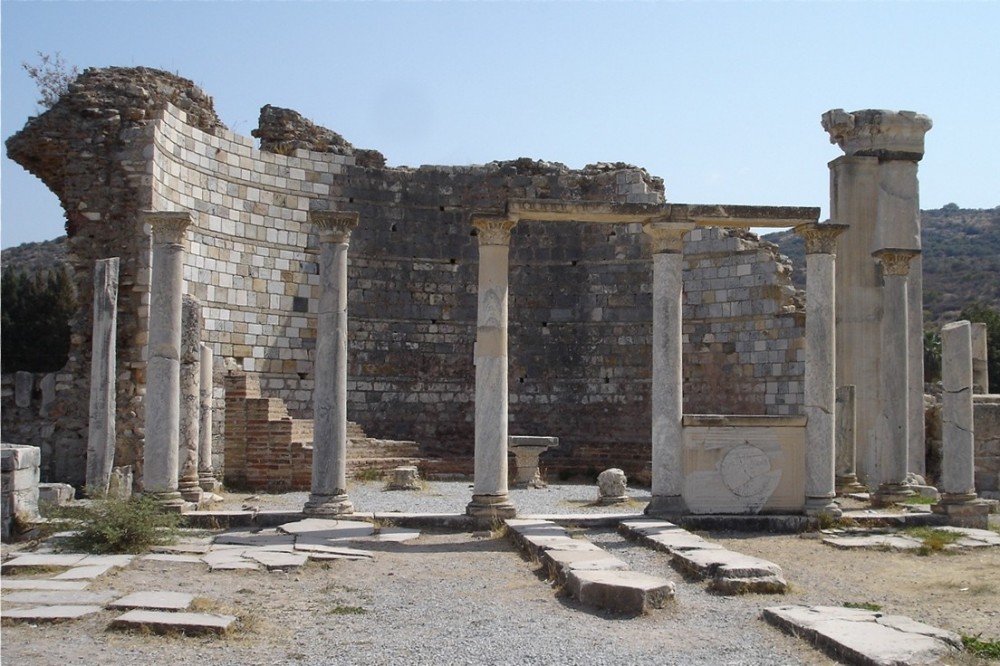 Hagia Maria Church, Ephesus
Opening greetings
2 Tim. 1:1-2 Paul greets his "dear child" in Christ and prays that he will receive grace, mercy and peace "from God the Father and Christ Jesus our Lord" (2 Timothy 1:2).
2 Tim. 1:3-7 He thanks God for Timothy, and hopes to see him soon. He recalls when he laid hands on Timothy to commission him, and remembers the faith of Timothy's mother Eunice and his grandmother Lois (see Acts 16:1-3).
2 Tim. 1:8-14 Paul urges Timothy to continue witnessing for Jesus and not to be ashamed of working with him, even though Paul is now "in prison for the Lord" (2 Timothy 1:8).
Timothy should hold on to the good things he was taught "with the help of the Holy Spirit who lives in us" (2 Timothy 1:14).
2 Tim. 1:15-18 Paul is sad that he has been deserted by Phygelus and Hermogenes from the Roman province of Asia, but he rejoices that Onesiphorus – who had worked for Paul in Ephesus – has arrived in Rome, and having searched for Paul has found him in prison.
Winning the race
2 Tim. 2:1-7 Paul urges Timothy to be a faithful soldier for Jesus Christ and not to be sidetracked by the hustle and bustle of daily life. He encourages him to concentrate on the task in hand – just as an athlete concentrates on winning a race.
2 Tim. 2:8-13 Paul is now chained like a criminal for preaching the Good News about Jesus. But the word of God is not in chains – so Paul continues to preach salvation and eternal glory through Jesus Christ.
2 Tim. 2:14-26 Paul encourages Timothy to preach God's truth to the church in Ephesus. He is advised not to argue with those – like Hymenaeus and Philetus – who are teaching that the resurrection of the dead on the 'Day of the Lord' has already taken place.
He should "run away from the evil young people" (2 Timothy 2:22) and keep away from foolish and ignorant arguments.