1 Timothy
This letter was written by Paul to his young fellow-worker Timothy between 63 and 66 AD. Paul was writing from Philippi in Macedonia (northern Greece) shortly after leaving Timothy in Ephesus to take charge of the church there (see 1 Timothy 1:3 and Map 27). It's not known who carried the letter from Philippi to Ephesus.
Timothy was a believer from Lystra in Galatia who was probably converted on Paul's first missionary journey in 47 or 48AD (see Map 23), and joined Paul on his second missionary journey in 50-52AD (see Map 24). His father was a Gentile (and was probably a Roman citizen) but his mother was Jewish, so he was regarded by the Jews as Jewish – as was anyone with a Jewish mother. Paul therefore circumcised him as a Jewish believer (see Acts 16:1-3).
Timothy stayed on in Berea after Paul had been forced to escape from the mob, but he later rejoined Paul in Athens (see Acts 17:14-16). Paul then sent Timothy back to Thessalonica (see 1 Thessalonians 3:1-5) but he re-joined Paul in Corinth (see 1 Thessalonians 3:6 & Acts 18:5). Timothy accompanied Paul to Ephesus on his third missionary journey in 53-57AD (see Map 25), and was sent on ahead to Philippi in Macedonia (northern Greece) (see Acts 19:22) before travelling on to Corinth in Achaia (southern Greece) (see 1 Corinthians 4:17 & 16:10). He returned to Macedonia with Paul en route to Jerusalem (see Acts 20:4).
Timothy later stayed with Paul during his house arrest in Rome in 60-62AD (see Colossians 1:1, Philemon 1:1 & Philippians 1:1). After Paul's release, he accompanied him to Ephesus (see 1 Timothy 1:3 and 2 on Map 28). He was later imprisoned and then released, probably during the persecution of Christians by Emperor Nero following the Great Fire of Rome in 64AD (see Hebrews 13:23).
In this letter, Paul warns Timothy about false teachings and advises him about Christian worship and church administration.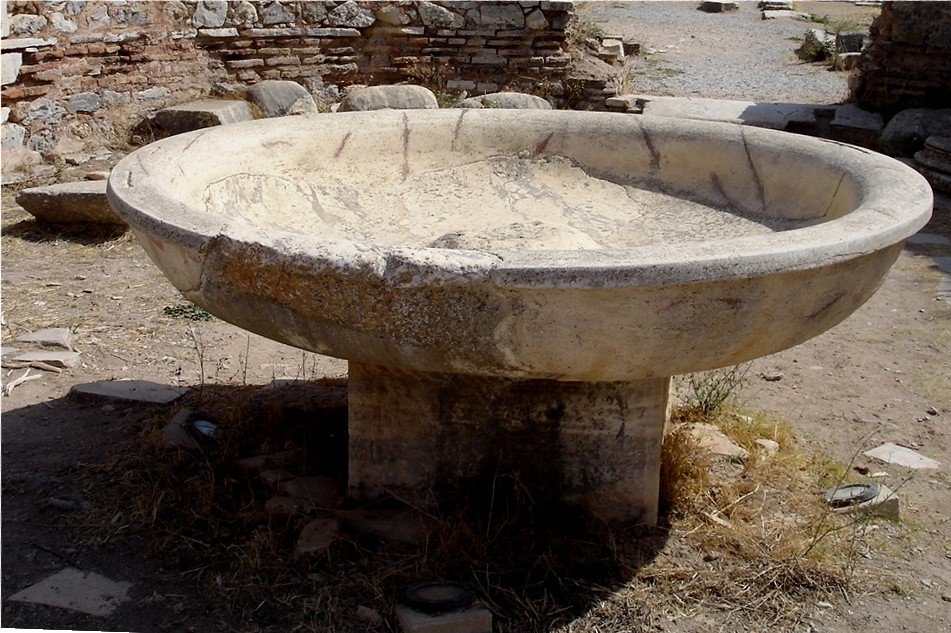 Paul left Timothy in charge of the young church at Ephesus
Paul warns about false teaching
1 Tim. 1:1-3 Paul greets Timothy as "a true child to me because you believe" (1 Timothy 1:2). He asks Timothy to stay on in Ephesus, as he had requested him to do when he left him there en route to Macedonia (see Map 28).
1 Tim. 1:4-11 He warns Timothy about the false doctrines that are circulating amongst the believers in Ephesus. He emphasises that God's work is achieved by faith, not by following genealogies and Jewish myths or by keeping the Jewish law.
1 Tim. 1:12-17 Paul thanks God that, through God's undeserved love, he has been appointed to serve Jesus Christ, even though, in the past, he insulted and persecuted him. "Christ Jesus came into the world to save sinners, of whom I am the worst" (1 Timothy 1:15).
1 Tim. 1:18-20 Paul encourages Timothy to keep his faith strong in order to fulfil the words from God spoken about him in the past. He warns him not to be deceived by false teachings – like Hymenaeus and Alexander have been.