Rom. 15:1-21 Paul explains his mission to the Gentiles. "I preached the Good News from Jerusalem all the way around to Illyricum" (the region west of Macedonia – see Acts 17:14 and Map 28), "and so I have finished that part of my work. I always want to preach the Good News in places where people have never heard of Christ, because I do not want to build on the work someone else has already started" (Romans 15:19-20).
Rom. 15:22-33 Paul says he now plans to visit the believers in Rome on a future journey en route to Spain. For the time being, however, he is going to Jerusalem to take gifts for the poorer members of the church from the believers in Macedonia and Achaia (northern and southern Greece) (see 1 Corinthians 16:1-4).
Rom. 16:1-27 Paul commends Phoebe from Cenchrea (the eastern port of Corinth) to the believers in Rome. (Phoebe probably took this letter by hand from Paul in Corinth to the believers in Rome.) Paul closes his letter by exchanging greetings with his friends and fellow workers.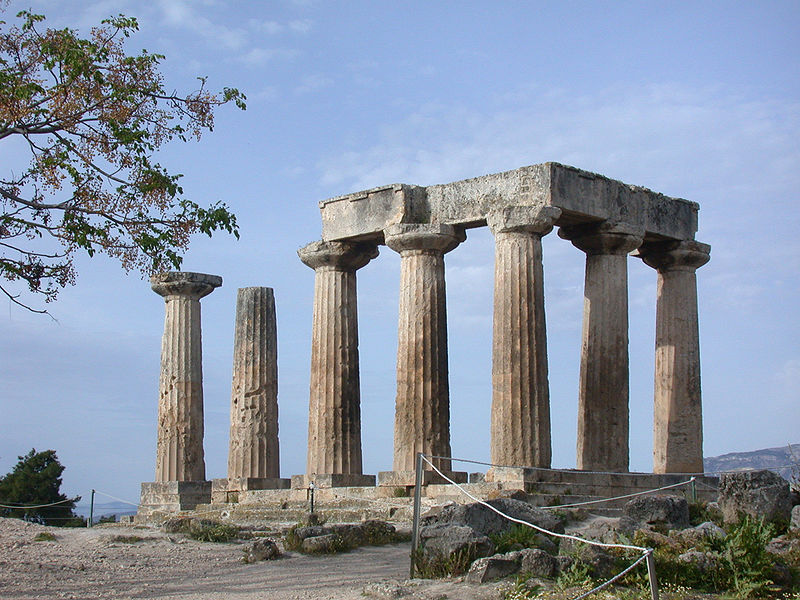 The Temple of Apollo at Corinth, where Paul wrote his Letter to the Romans
Aquila and Priscilla and other friends of Paul
At the end of his Letter to the Romans, Paul sends greetings to his friends Aquila and Priscilla 'who risked their own lives' for him – perhaps a reference to the riot in Ephesus (see Acts 19:30). Paul had stayed for eighteen months with Aquila and his wife in Corinth (in 51-52AD) (see 5 on Map 24) and, more recently, for three years in Ephesus (in 53-56AD) (see 2 on Map 25). By the time of writing (in 57AD), Aquila and Pricilla had returned to Rome from where they had been expelled by the Emperor Claudius eight years earlier in 49AD (see Acts 18:2, 18:19, 18:26 & 1 Corinthians 16:19). As in Ephesus, the Christian believers in Rome were meeting at their home. Paul also sends his greetings to the other believers in Rome including Epenetus from the Roman province of Asia.
Paul then adds personal greetings from the believers he has recently been working with in Corinth. These include Timothy (see Acts 20:2-4), Jason (from Thessalonica in Macedonia – see Acts 17:5) and Erastus (from Ephesus – see Acts 19:22 & 2 Timothy 4:20). Erastus was the Director of Public Works in Corinth, and his name can still be seen today on an inscription in the Roman theatre at Corinth.