1 Corinthians
This letter was written during Paul's third missionary journey early in 56AD (before Pentecost – see 1 Corinthians 16:8) when he had been staying at the home of Aquila and Priscilla in Ephesus for three years (see Acts 18:24-28, 19:1-10, 1 Corinthians 16:19 and 2 on Map 25). During this time Paul writes the first of his two letters to the new believers in Corinth and plans to visit them later in the year (1 Corinthians 16:5-9).
The letter is taken from Ephesus to Corinth by Titus (see 2 Corinthians 7:6-16, 12:18). Paul also sends Timothy (see 1 Corinthians 4:17 & 16:10), who plans to stop off at Philippi in Macedonia before moving on to Corinth (see Acts 19:22 and 3 on Map 25).
In this letter, Paul relates the Christian faith to everyday life in a cosmopolitan Greek city dominated by the worship of Aphrodite, the Greek goddess of love. He addresses questions about immorality, sex and marriage, and the gifts of the Holy Spirit. The section on God's love (1 Corinthians 13:1-13) is one of the best known passages in the Bible.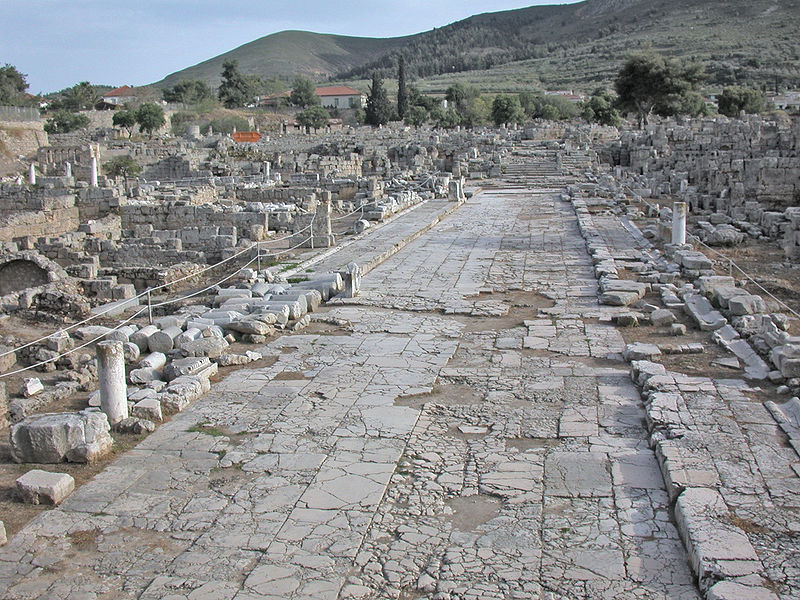 A street in Roman Corinth