Acts 19:11-20 God performs extraordinary miracles through Paul, who casts out demons and cures the sick. Many pagan sorcerers become believers and burn their magic textbooks.
Acts 19:21-22 Paul decides to visit Macedonia and Achaia (northern and southern Greece) in the autumn of 56AD to collect offerings for the impoverished believers in Judaea before visiting Jerusalem in 57AD and then going on to Rome. He sends Timothy and Erastus on ahead to Macedonia (see Map 25).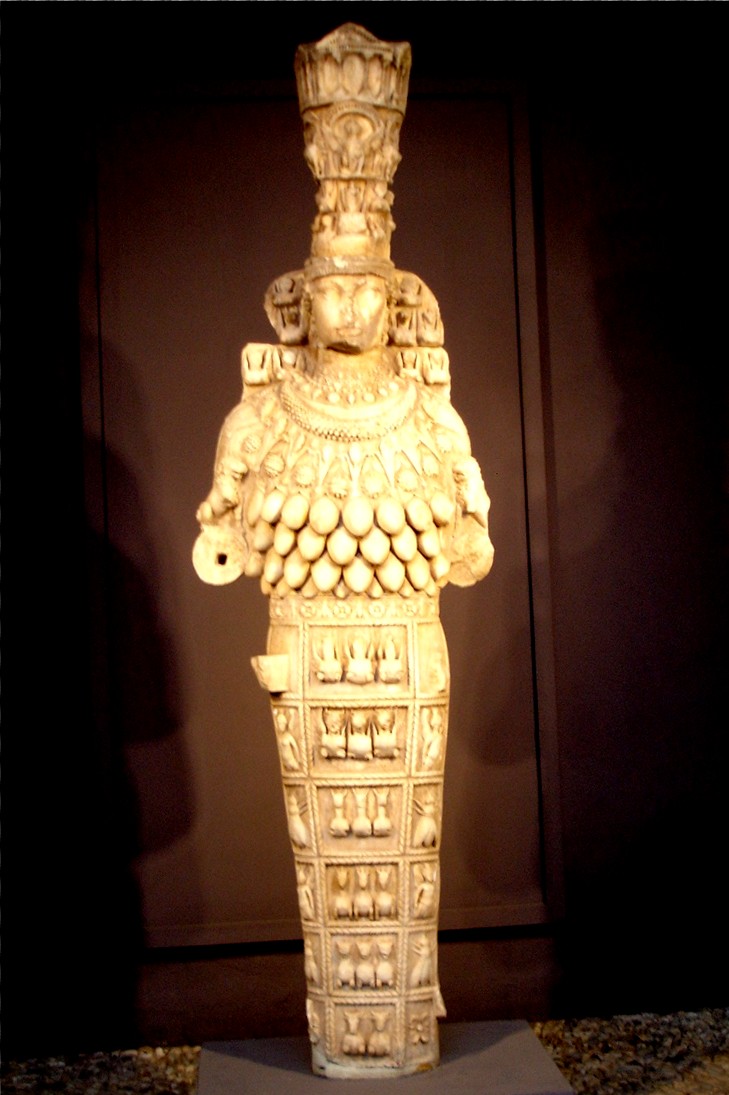 Acts 19:23-41 Paul falls foul of Demetrius – a silversmith who makes silver images of the pagan fertility goddess Artemis (called 'Diana' by the Romans) for visitors to the Temple of Artemis in Ephesus.
Cult statue of Artemis
('Diana of the Ephesians')
(Acts 19:24)
Demetrius, suffering a loss in trade, stirs up a riot, and Paul's companions Gaius and Aristarchus are dragged into the theatre. Even Alexander – a local Jewish spokesman – is drowned out by the crowds chanting "Great is Artemis of Ephesus!" (Acts 19:34). Eventually, a Roman official quietens the mob and insists that any charges must be made through the magistrate's court.
The Roman Theatre from the Arcadian Way, Ephesus (Acts 19:29)
Acts 20:1-2 Paul leaves for Troas in the autumn and sails on to Macedonia where Timothy and Erastus are waiting for him (see 2 Corinthians 2:12-13 and 3 on Map 25).
While in Philippi in the autumn of 56AD, Paul writes his Second Letter to the Corinthians. Paul explains how he had originally decided to visit Corinth both before and after his visit to Macedonia (see 2 Corinthians 1:16). But he has changed his mind, and has gone straight to Macedonia with the intention of moving on to Corinth to spend the winter there (see Acts 20:1-3).
He reminds the believers about collecting their offering for the church in Judaea, and defends himself against further charges brought against him by 'false prophets'.