Acts 20:13 The next morning, Paul leaves on foot for Assos, while his companions – now including Luke (the writer of the Acts of the Apostles) – set off by ship to Assos (see Map 25).
Assos
Assos was an ancient Greek city, well known – even in Paul's day – as the home of Aristotle, who founded a school of philosophy here in 340BC (see Map 25). With his keen interest in philosophical debate, it is easy to understand why Paul wanted to visit Assos, while his companions were quite happy to stay on board the ship in the ancient harbour.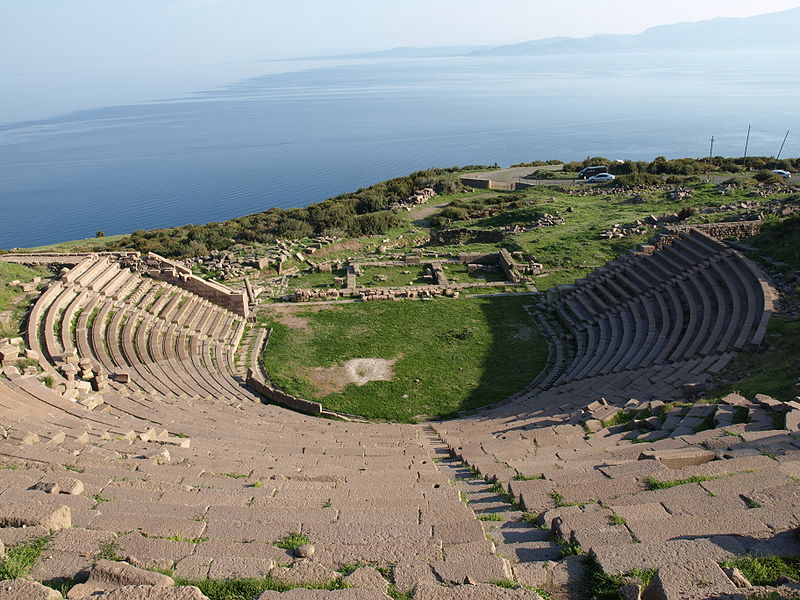 The Roman Theatre at Assos (Acts 20:13) (Vindobona)
Modern-day visitors to Behramkale (Assos) in Turkey can still sail into the old harbour and explore the nearby remains of the Roman city – including the Roman agora, a theatre, several temples and a gymnasium. Over 700 feet / 200 metres above the harbour, the ruins of the Temple of Athena, built in the 6th century BC, dominate the Acropolis of the original Greek settlement and look down over the city – just as they would have done when Paul arrived in 57AD.