The Book of Amos was written between c.760 and c.750BC before the fall of the northern kingdom of Israel in 722 BC. Amos denounces the injustices evident in contemporary society and warns that God will punish the nation for the widespread oppression of the poor.
Amos
Title? The Book of Amos.
Written by whom? Amos, a landowner from Tekoa near Bethlehem in Judah.
When? Between c.760 & c.750BC.
Where? He probably ministered at Bethel, the religious sanctuary north of Jerusalem.
To whom? He spoke to the people of the northern kingdom of Israel.
What was the message? Amos spoke out against the social injustices of his day and warned that God would punish Israel as a result.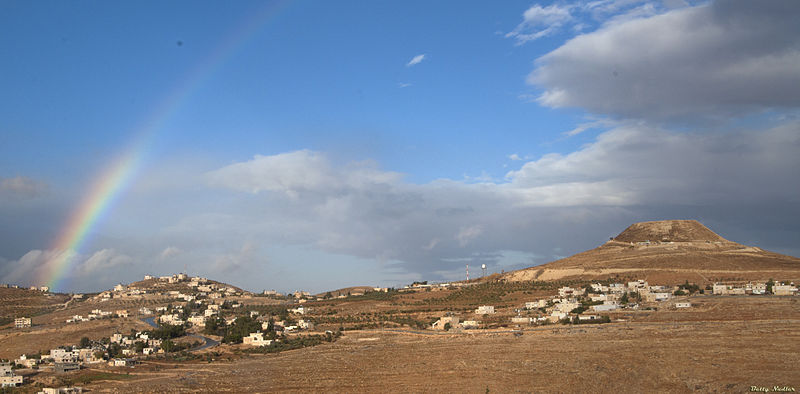 View of Herodium from Tekoa (Betty Nudler)
Amos 1:1-2 Amos is a shepherd from the town of Tekoa (Tuqu, 5 miles / 8 km south of Bethlehem in Judah). He prophesies "two years before the earthquake" (Amos 1:1) when Uzziah (Azariah) is king of Judah (767-737BC) and Jeroboam II is king of Israel (782-741) (see Jeroboam II restores the boundaries of Israel & 2 Kings 14:21-15:7). This places his ministry between 767 and 741BC.
Amos said, "The LORD will roar from Jerusalem; he will send his voice from Jerusalem. The pastures of the shepherds will become dry, and even the top of Mount Carmel will dry up." (Amos 1:2)