Acts 12:1-19 The narrative now skips a few years to 44AD. Peter (who is regarded as a radical Jew for mixing with Gentiles) is arrested in Jerusalem during the Passover festival on the orders of King Herod Agrippa I, who has recently beheaded the apostle James, the brother of John.
Peter is miraculously freed from prison during the night by an angel. He rejoins the believers – who are meeting at the home of John Mark in Jerusalem. He hands over the leadership of the Jerusalem church to the more traditional James (the brother of Jesus – see Galatians 1:19) and flees elsewhere for safety. St Mark's Church, in the Armenian Quarter of the Old City of Jerusalem, is believed to mark the site of John Mark's home.
Acts 15:1-21 Peter addresses the assembly of believers in Jerusalem in 49/50AD. James – as leader of the church – concludes that the Jewish believers shouldn't insist that Gentiles who have become believers in Jesus must adopt all the Jewish religious traditions (see Acts 15:12-21).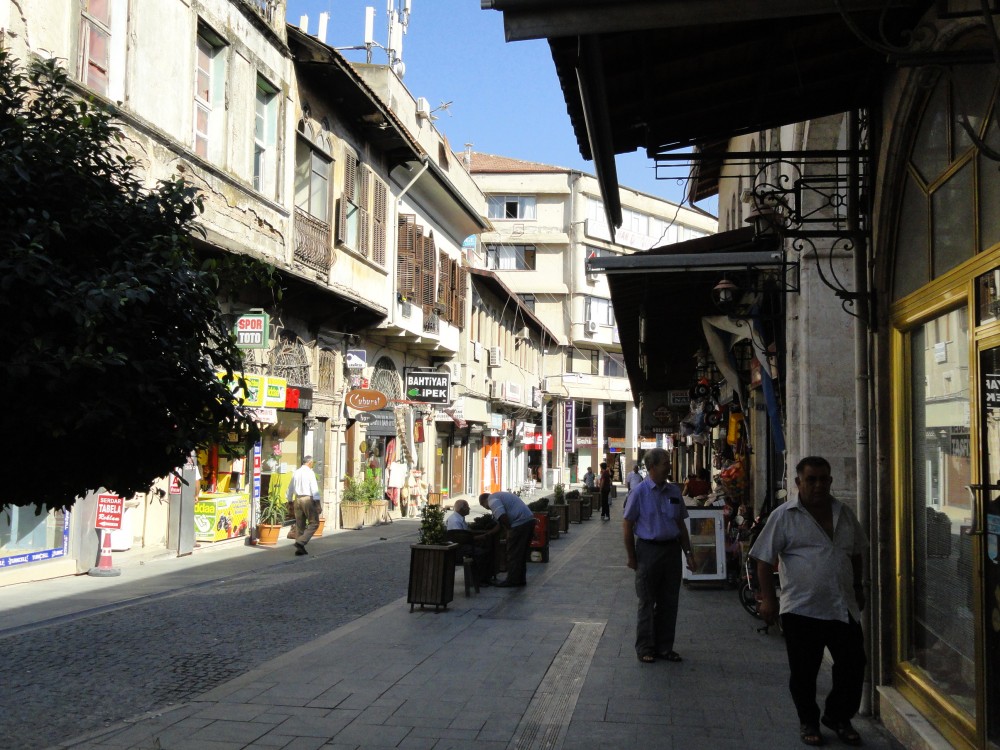 Pedestrianised shopping street in the Christian Quarter of
Antioch in Syria (Antakya) (Galatians 2:11)
Gal. 2:11-14 Peter meets Paul in Antioch in 50AD, shortly after the Council of Jerusalem (see 4 on Map 19). Paul accuses Peter of changing his mind and drawing back from eating with Gentiles – under pressure from the more traditional Hebraic Jewish believers from Jerusalem.
1 Cor. 1:12 When Paul writes to the Corinthian believers in 56AD, some believers in Corinth claim to follow Peter, while others claim to follow Paul or Apollos. Peter may, therefore, have escaped to Corinth between 44 and 49AD (see 5 on Map 19).
1 Pet. 1:1 In 66AD, Peter writes from Rome to the Jewish believers in the Roman provinces of Asia Minor – in Pontus, Galatia, Cappadocia, Asia and Bithynia (see 6 on Map 19).
2 Pet. 1:14-15 In 67AD, Peter writes again from Rome, where he has been imprisoned and is about to be executed.