Practical advice for believers
Col. 3:18-4:1 Paul adds some practical advice for successful family relationships: "Husbands, love your wives and be gentle with them... Fathers, do not nag your children." (Colossians 3:19-21). (See also Ephesians 5:21-6:9.)
Col. 4:2-6 Paul encourages the believers to pray at all times, and asks them to pray for him: "Pray for us that God will give us an opportunity to tell people his message... Pray that I can speak in a way that will make it clear..." (Colossians 4:3-4).
Col. 4:7-9 He ends by commending Tychicus who is bringing this letter to Colossae. Paul is also sending Onesimus, a Christian slave from Colossae on whose behalf Paul has written a personal letter to Philemon (see Philemon 1:10).
Paul sends greetings
Col. 4:10-14 Paul sends greetings from three fellow Jewish believers: Aristarchus (who is also imprisoned in Rome), Joshua Justus, and John Mark, the nephew of Barnabas (who wrote Mark's Gospel – see Acts 12:12, 25, 13:5,13).
He also sends greetings from three of the Gentile believers: Epaphras (who established the churches in Colossae, Laodicea and Hierapolis) (see Map 29), Luke (the author of Luke's Gospel who accompanied Paul during the later stages of his third missionary journey and on his voyage to Rome (see Acts 20:6 & 27:1), and Demas.
Col. 4:15-17 Paul sends greetings to the believers in Laodicea and to those meeting in Nympha's house. He asks them to read this letter to the believers at Laodicea, and to read for themselves the letter he has sent to the church at Laodicea. (This refers either to a letter written by Paul that has not survived or to the letter that we now call the Letter to the Ephesians). They are to encourage Archippus in the missionary task he has been given (see Philemon 1:2).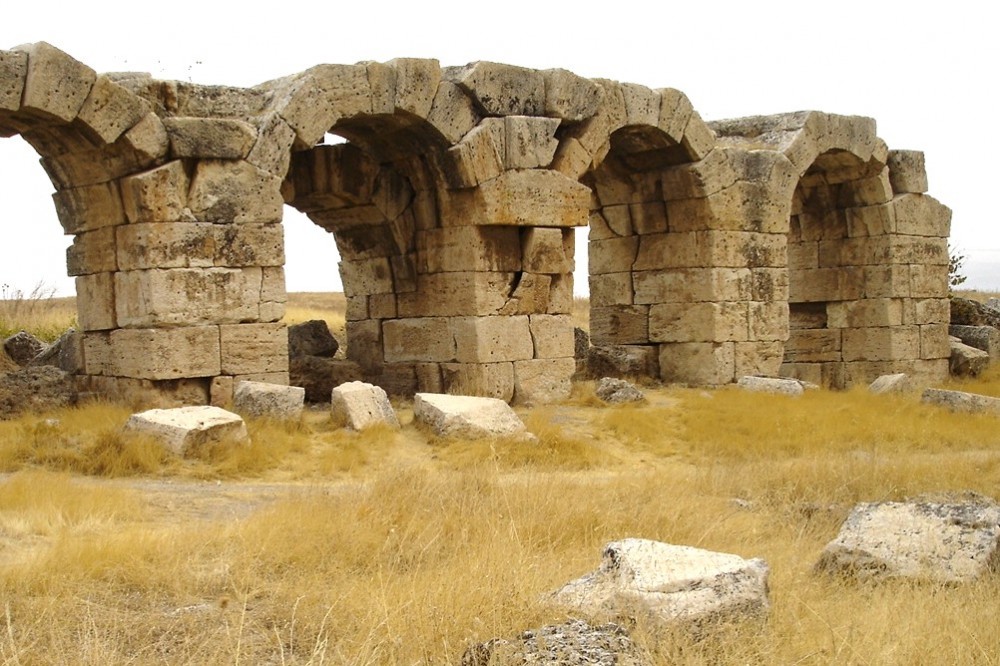 Roman aqueduct at Laodicea
Col. 4:18 Paul ends the letter with a personal greeting: "I, Paul, greet you and write this with my own hand. Remember me in prison. Grace be with you" (Colossians 4:18).