1 Thessalonians

This letter was written from Corinth to the believers in Thessalonica in 51 or 52AD during Paul's second missionary journey (see Map 27). Paul is writing to one of the churches he had established in Macedonia (northern Greece) some months earlier before moving south to Achaia (southern Greece) (see Acts 17:1-9, 18:1).
Paul had already sent Timothy back to Thessalonica after arriving in Athens (see 1 Thessalonians 3:1-5 and 5 on Map 24) but Timothy had since re-joined Paul in Corinth (see 1 Thessalonians 3:6 & Acts 18:5). The person who delivered this letter is uncertain, but it was unlikely to have been either Timothy or Silas (see 1 Thessalonians 1:1), one of whom may well have scribed the letter while Paul dictated.
In this letter, Paul encourages the new believers to stand firm under persecution and instructs them how to lead a godly life. Paul had left Thessalonica rather abruptly (see Acts 17:10) and had been given little opportunity to teach these new Gentile converts how to adapt their lifestyle to reflect their new faith (see Acts 17:4).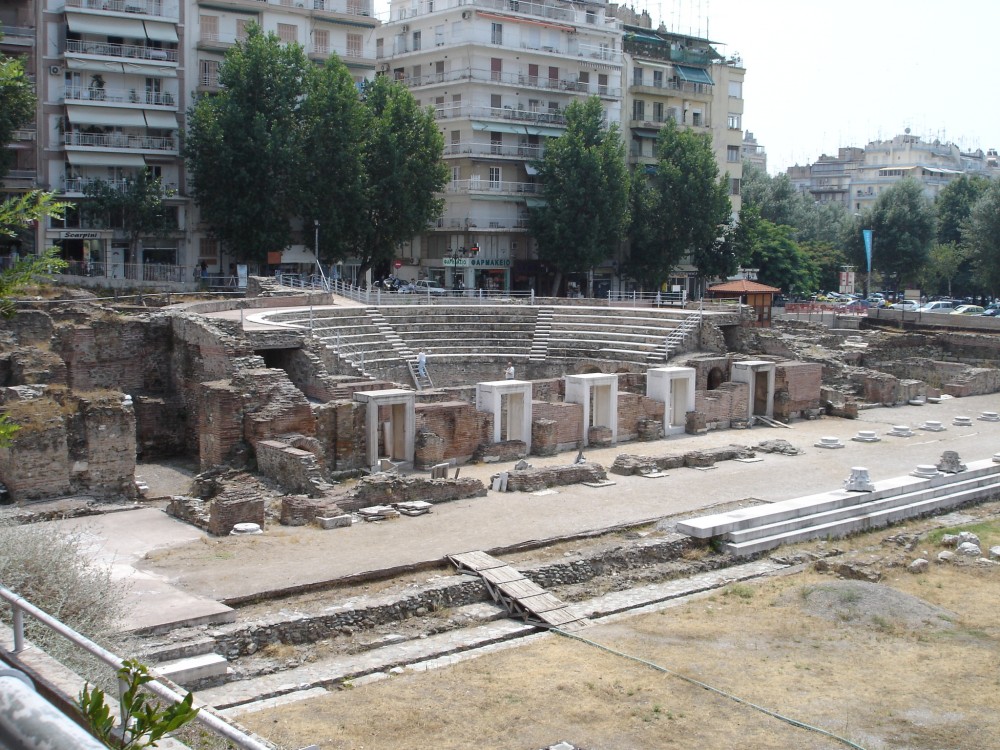 Roman Odeion in Thessalonica
Paul thanks God
1 Thess. 1:1 Paul sends greetings from himself and from his fellow-workers Silas (or 'Silvanus'), who had visited Thessalonica with Paul (see Acts 17:1), and Timothy (who had probably stayed behind in Philippi and had then caught up with Paul and Silas in Berea – see Acts 17:14 and Map 24).
1 Thess. 1:2-10 Paul thanks God for the love shown by the new believers and rejoices that they turned away from idol worship and received the power of the Holy Spirit when Paul brought them the Good News about Jesus.
1 Thess. 2:1-9 Paul refers to the ill treatment he received in Philippi before arriving in Thessalonica in 51AD (see Acts 16:16-40), and mentions the opposition he encountered in Thessalonica (see Acts 17:5-9).
1 Thess. 2:10-16 He tells the new believers that the persecution they are being subjected to by the Jews in Thessalonica (see Acts 17:1-4) is just the same as the believers in Judaea have suffered at the hands of the Jews there (see Acts 12:1-5).